Perambalur District Collector's visit to Payir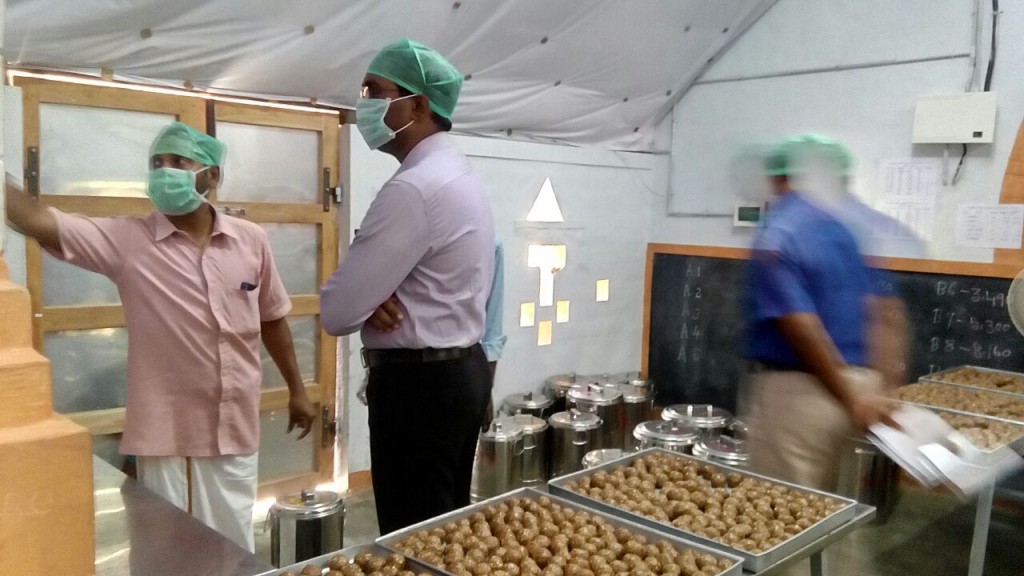 The collector of Peramabalur District Mr. Nandakumar IAS, visited Payir Trust on 30 June, 2016.
This is his first visit to Payir since he took charge as collector of Peramablur District 3 months ago. Payir has had a cordial and excellent working relationship with the previous collectors of Perambalur District, Mr. Darez Ahamed, and his predecessor Mr. Anil Meshram.
Mr. Nandakumar was shown around the campus and the various initiatives, by our founder Senthil and the staff of Payir.
Mr. Nandakumar visited our ladoo making unit. In collaboration with the district administration, we have been working on the AGEP program (Adolescent Girls Empowerment Program) for a year, providing nutritious laddoos to 3200 adolescent girls in 18 schools. He was very impressed with the strict hygienic conditions we maintain (aprons, gloves, masks, hair masks, wash hands and feet before entering premises, covered windows and airway) in the making center, and appreciated the efforts. He tried the laddoos and was very happy with the taste.
He has agreed to extend the program by another year, and Payir has gladly accepted.
He has also asked Payir to extend the reach of the program to adjoining blocks of Veppanthatai and Vepur adding 40 more schools and 7000 more students. We in the process of evaluation.
Thenur being a drought region faces constant water problem. The collector discussed Watershed Management for Thenur and surrounding villages with Payir, as we have already done some ground work.
Mr. Nandakumar visited our Thoorigai bag making unit, and was impressed with the quality of the bags. He mentioned that he would recommend the unit to the Development Commission of Handicrafts
He also requested our founder Senthil to represent Perambalur District at the State Finance Committee meeting in Trichy on July 13th, 2016.