Thoorigai: An Initiative of Payir

An alternate livelihood choice towards enhancing dignity of women

 
"These days, I am at peace coming here and making bags instead of being at home, even on Sundays.  The many trips I made to places I had never been to or even imagined, for selling our bags, has given me a new perspective of life and confidence to live a life that I am more happier with" says Amudha. This is a feeling shared by almost all the women of Thoorigai!
Agriculture is the main source of livelihood in and around Thenur village. A few years back, when rain patterns started to become unpredictable and agriculture suffered, we encouraged three local women to attend a short bag-making course, they returned with enthusiasm to write their own success stories – Thus, Thoorigai was born in 2011. Initially, the women created simple handbags with their newly acquired skills, slowly experimenting with various patterns and designs.
At present, with seven women in the team, Thoorigai has blossomed into a bag-making venture that has produced and sold over 15,000 bags. With a name that means feather-pen or quill in Tamil, Thoorigai is a result of the creativity and aspirations of rural women who have evolved about 100 different bag designs. Now they handcraft colorful bags and home furnishings using eco-friendly material. Over the years, they have honed their skills so well that they can make sustainable living out of this income.
The sale of these bags provides not only livelihood for the women and their families, more importantly being a part of Thoorigai has made them feel proud of their creativity. The women are much more confident, feel dignified in their families and able to afford better education to their children.
Thoorigai offers a vibrant selection of handcrafted, trendy & sturdy
Bags ♦ Purses ♦ Slings ♦ Backpacks ♦ Cushion covers ♦ Clutches ♦ Jewellery
…. and much more
WE ARE ECO-FRIENDLY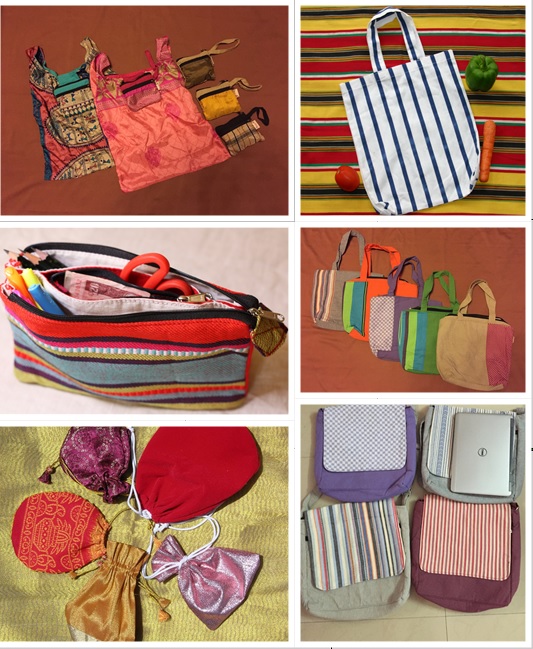 We also customize our products and take orders for weddings, conferences, events, celebrations and any special occasions
Thoorigai also caters customized products as per your requirements for festival, family, community, corporate and academic events. These bags are available in India and we are now expanding in different cities in the US. These bags are convenient, vibrant and are great accessories. Ladies like the different styles and kids love the little pencil and trinket pouches. They make very good gifts for festival, family, community, corporate and academic events.

Please visit and like our Facebook page to get updates on available models and events near you where the bags will be available for sale: https://www.facebook.com/ThoorigaiBags/.  To know more our products, please reach us out: thoorigai@payir.org